EVENTS
Member Log In
Access our library of articles, videos and proceedings for members only.
2018 Eastern Region Annual Conference: Newark, Delaware
23 September 2018 - 26 September 2018
Come to the Delaware Valley!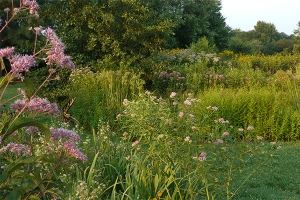 The IPPS Eastern Region's 2018 Conference will be held from September 23-26 in Newark, Delaware. That's pronounced "New Ark" for those not familiar with Delaware's most picturesque and active college town (home to the University of Delaware.) This location is not only equidistant from two major airports (Baltimore's BWI and Philadelphia International Airport) but positions us perfectly to visit major production nurseries and botanical gardens in Pennsylvania, Maryland, New Jersey and Delaware.
The four-day event will feature a full day pre-conference tour on Sunday, September 23rd followed by two days with morning presentations and afternoon conference tours. The final day will be Wednesday, September 26th with a morning of talks; the conference will end about noon. We are very pleased to host the International IPPS Board of Directors who will take part in an 11-day tour concluding in Newark. More on the International Tour (all are welcome!) HERE.
TOURS
Tour stops include: Cavano's Perennials, The Perennial Farm, Manor View Farm, Emory Knoll Farms, Foxborough Nursery, Centerton Nursery, Overdevest Nurseries, Rivendell Nursery, North Creek Nurseries, Star Roses & Plants and the University of Delaware Botanic Garden (which is in walking distance from our hotel). Conference attendees consistently rate IPPS tours as their favorite conference event! You can download the tour schedules below.
PROGRAM
This year's educational program theme is Plant Production around the World "From Backyard to Outback", providing insights into plant production not only in the Delaware Valley and the surrounding area, but into plant production globally. International as well as local speakers will talk on a variety of topics sharing their expertise, insights and production tips. Don't miss this chance to Seek and Share with our global colleagues. You can download the program below.
POSTER SESSION
The Eastern Region Poster Session showcases plant production research as well as practical or new propagation or production ideas. Consider preparing a poster on cool things you do in your company, some new production or propagation technique or a new piece of equipment. We have a step by step guide to help you through the process: HERE. We'll even print the poster for you and get it to the conference – doesn't get easier than that! Check out details on the poster registration form HERE. We need to hear from you by September 1st so that we have a poster backing waiting for you in Newark. Questions? Contact IPPS-ER Poster Chair Win Dunwell (Tel: 270.963.1638; Fax: 270.365.2667; wdunwell@uky.edu)
LODGING
Rooms are reserved for our group at two side by side hotels, the Embassy Suites Newark Wilmington South and the Homewood Suites Newark Wilmington South, conveniently located just off Interstate I-95. Conference events will be held at the Embassy Suites.The room rate at either property is $159.00 single/double occupancy.Both properties include a free full, hot breakfast.The Embassy Suites has an evening Manager's Reception with complimentary cocktails and snacks (5:30-7:30pm) and the Homewood Suites has a light buffet dinner from Monday through Thursday (5:30-7:30pm). Parking is free at both properties. You can find transportation details HERE.
Room reservations must be made by September 7, 2018 to get the discounted group rate. Click HERE for a reservation at the Embassy Suites and HERE for the Homewood Suites. Be sure to include Group Code "IPP".You may also phone in your reservation:302-368-8000 for the Embassy Suites and 302-453-9700 for the Homewood Suites.
STICK AROUND!
You may well want to extend your stay this year to explore some of the 30 public gardens within 30 miles of Philadelphia. This garden-rich area will not disappoint! To name just a few of the magnificent options: Longwood Gardens, Winterthur, Mt. Cuba Center, Chanticleer, the Tyler Arboretum, Jenkins Arboretum and Gardens and the Scott Arboretum of Swarthmore College.
Eastern Region Conference registration will open July 1st!
---