Awards
Member Log In
Access our library of articles, videos and proceedings for members only.
Award of Merit
The Award of Merit is the most prestigious award bestowed on a member by the Eastern Region of the International Plant Propagators' Society. The Award of Merit is made to an individual who has made a significant contribution to the field of plant propagation and production.This can be in the form of scientific discovery or the application of facts to the propagation and production of plants, development of new practices or techniques, services rendered to the science and practice of plant propagation and production, or extraordinary service to the Society.
2017 Award of Merit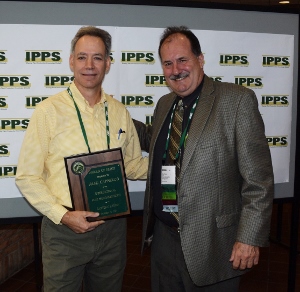 Dr. Paul Cappiello, Executive Director of Yew Dell Botanical Gardens in Crestwood, Kentucky, was presented with the IPPS Eastern Region Award of Merit on October 13th in Grand Rapids, MI. Following a standing ovation by the conference attendees, Cappiello stated that IPPS has been a part of his entire professional career and that he would not be where he is today without it. He encouraged others to get involved and stay involved and emphasized that it is the shared passion that makes the Society work.
Cappiello has been an IPPS Member since 1995. His service to the Society has been extensive: chairing and participating on numerous committees, serving as a director and officer on the Eastern Region Board of Directors, serving as the 2011 Local Site Committee Chairman and as the Executive Director of the IPPS Eastern Region Foundation. Paul is currently the Eastern Region Delegate to the IPPS International Board of Directors.
Cappiello has presented 5 papers into the IPPS Combined Proceedings, written a book, introduced 8 new plant cultivars to the industry, and written over 116 professional publications. He was awarded the IPPS Eastern Region Fellow Award in 2008 and has also received numerous awards and honors from other educational and horticultural organizations. He is known to be an incredible teacher, administrator, horticulturalist, and public gardener.
Paul and his wife Carolyn live in Louisville, Kentucky and have a son, Christopher.
The IPPS Eastern Region honors it's own once a year at the annual conference. Nominations of worthy candidates may be submitted at any time but in order to be considered for the 2018 balloting, nominations must be received by July 18, 2018. Contact Recognition Committee Chair Dale Pierson to make a nomination: dpierson@piersonnurseries.com. You can see the list of past recipients below.