Awards
Member Log In
Access our library of articles, videos and proceedings for members only.
Fellow Award
The IPPS Eastern Region honors its own once a year at the annual conference. Despite cancelling our 2020 conference, we want to gather nominations of worthy candidates for awards to be presented at our 2021 conference. It's quick & easy to make a nomination by emailing Recognition Committee Chair Ron Strasko: ron@creekhillnursery.com. As always, names are held for three years.
The Fellow Award was created to acknowledge outstanding members of the International Plant Propagators Society, Eastern Region North America, who have contributed to the advancement of the IPPS Eastern Region and to the field of Plant Propagation and Production. This recognition is for contributions to the IPPS through participation, service, leadership, research, teaching or extension work. Only active members with at least 10 years of membership are eligible (see list below). To view a list of all IPPS Eastern Region Fellows, download the document below.
2019 Fellow Award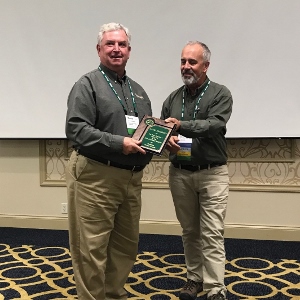 W. David Thompson, President of Foxborough Nursery in Street, Maryland has been named a Fellow of the IPPS Eastern Region.The Fellow Award is presented to members who exhibit exemplary service to the Society and to the advancement of the field of propagation and production. The announcement was made on October 17th at the Annual Conference of the IPPS Eastern Region held in Madison, Wisconsin.
Thompson has been a member of the IPPS Eastern Region since 1976. He has served on five IPPS committees, has contributed four papers to the IPPS proceedings, and currently serves on the IPPS Eastern Region Board of Directors.

Growing up inspired by his family's vegetable and flower gardens, Thompson studied horticulture at the University of Maryland, receiving a Bachelor of Science degree in 1975. In 1978, he founded Foxborough Nursery with his wife, Marilyn. In the ensuing 40 years Foxborough Nursery has grown to a 525-acre operation well known in the horticultural industry for specializing in rare and unusual plant material.
Today Foxborough Nursery features an inventory of over 900 cultivars, mostly propagated from cuttings or grafts. Their goal is to grow the finest quality true-to-name trees and shrubs on the East Coast.The next generation of Thompsons, David and Marilyn's sons Brad and Andrew, have prominent roles at Foxborough in addition to their own business, Brothers Berries, a cut winterberry branch business.
In addition to his successful business, David has served important roles in the Maryland Nursery and Landscape Association, from which he received the Professional Achievement Award, and the Mid-Atlantic Nursery Trade Show. In 1994 he was honored by the University of Maryland College of Agriculture Alumni Association's Meritorious Service of Agriculture award. He is also a founding member of the American Conifer Society and has served as president of its Eastern Region chapter.
Upon receiving the Fellow Award, David commented that he was "shocked, proud and honored to be named a Fellow."He remembered fondly that when he graduated, his mentors encouraged him to join IPPS and he has been a member ever since!