Awards
Member Log In
Access our library of articles, videos and proceedings for members only.
Fellow Award
The Fellow Award was created to acknowledge outstanding members of the International Plant Propagators Society, Eastern Region North America, who have contributed to the advancement of the Society and to the field of Plant Propagation and Production. This recognition is for contributions to the IPPS through participation, service, leadership, research, teaching or extension work. Only active members with at least 10 years of membership are eligible (see list below). To view a list of all IPPS Eastern Region Fellows, download the document below.
2018 Fellow Award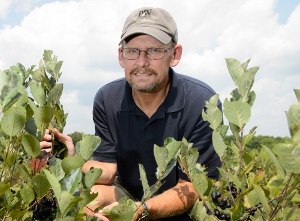 Dr. Mark Brand was named a Fellow of the Eastern Region of the International Plant Propagators' Society at their annual conference in Newark, DE in September. Dr. Brand is a professor in the Plant Science and Landscape Architecture Department at the University of Connecticut in Storrs, CT. An IPPS member since 1995, Brand was a Director on the Board from 2015-2018, and has served on the Local Site committee, Area Meeting Committee and has submitted five papers in the Combined Proceedings.
A native of Connecticut, Brand grew up next to the University of Connecticut campus.He received his B.S. in 1982 from Cornell University.In 1985 he received his master's degree followed in 1988 by his Ph.D. from Ohio State University. He has worked at UConn for 30 years. He currently teaches Woody Landscape Plants, Plant Propagation and Plant Tissue Culture.
Brand has focused his research efforts on invasive ornamental plants, evaluation of underused native shrubs, propagation and tissue culture. He is now focusing a significant amount of his effort on Aronia, as both an ornamental and nutraceutical fruit crop. Dr. Brand has 30 cultivar introductions and 14 plant patents resulting from his breeding program.Mark is the creator of the UConn Plant Database.This busy man has found the time to write many scholarly articles.
Born in West Lafayette, Indiana, Mark got his start in plant breeding working summers with Gus Mehlquist.Mark's wife Jessica Lubell Brand is also a Horticulture professor at UConn. One of his three sons works in the industry at Prides Corner Farms. Mark enjoys boating, kayaking, keeping tropical fish and spending time at his family's cottage in Maine.

The IPPS Eastern Region honors it's own once a year at the annual conference. Nominations of worthy candidates may be submitted at any time but in order to be considered for the 2019 balloting, nominations must be received by July 26, 2019. Contact Recognition Committee Chair Brian Maynard to make a nomination: bmaynard@uri.edu