Awards
Member Log In
Access our library of articles, videos and proceedings for members only.
Fellow Award
The Fellow Award was created to acknowledge outstanding members of the International Plant Propagators Society, Eastern Region North America, who have contributed to the advancement of the Society and to the field of Plant Propagation and Production. This recognition is for contributions to the IPPS through participation, service, leadership, research, teaching or extension work. Only active members with at least 10 years of membership are eligible (see list below). To view a list of all IPPS Eastern Region Fellows, download the document below.
2017 Fellow Award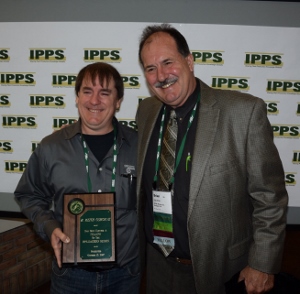 Keith Osborne, Horticulturalist for Gro-Bark (Ontario) Ltd., was named a Fellow of the IPPS Eastern Region at the annual conference in Grand Rapids, MI in October. Osborne has shown strong leadership as a Director on the Eastern Region Board of Directors (2011-14) and creative enthusiasm as Chair of the 2014 Local Site Committee for the 2014 conference held in Niagara Falls, Ontario. He has been heavily involved in organizing multiple Area Meetings in Ontario and has been very successful in developing and executing the role of IPPS-ER Sponsorship Coordinator since 2015.
Keith has also authored three papers in the IPPS Combined Proceedings based on conference presentations he has made. Since joining the Eastern Region in 2002, Keith has been a very active and influential member. We congratulate him on receiving this well-deserved honor: IPPS Eastern Region Fellow 2017.
The IPPS Eastern Region honors it's own once a year at the annual conference. Nominations of worthy candidates may be submitted at any time but in order to be considered for the 2018 balloting, nominations must be received by July 18, 2018. Contact Recognition Committee Chair Dale Pierson to make a nomination: dpierson@piersonnurseries.com