HRI Honoree David Hamilton
---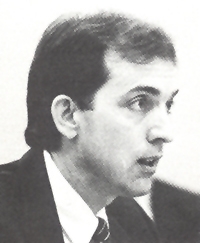 David Hamilton was born on October 4, 1946, in Savannah, Tennessee, a rural community in the western part of the state. He attended the University of Tennessee and graduated with honors with a degree in horticulture in 1968. His graduate studies were interrupted by 2 years of service in the U.S. Army in Southeast Asia. During his days in the army he reached the rank of sergeant.
Following his tour of duty, David earned his MS and PhD degrees from Purdue University, West Lafayette, Indiana, in 1971 and 1974, respectively. While a student at Purdue, he received a student research paper award from I.P.P.S. Upon graduation, he began his academic career at the University of Florida. In 1976, he returned to Purdue as an Assistant Professor in the Department of Horticulture.
At Purdue, David taught Nursery Management and developed an excellent series of extension publications for the nursery industry. Several of these focused on starting a nursery and are still used today in modified forms. He was a prolific writer and published numerous refereed scientific journal articles and other papers related to nursery crop production. His research emphasis was the effect of light intensity on growth of woody plants. Four different graduate students completed their studies with David as their major professor. David was also a very active member of the Eastern Region of the International Plant Propagators Society and served as Secretary/Treasurer.
In 1984, David took a sabbatical leave from Purdue to work with the then American Association of Nurserymen (AAN) in Washington, D.C. After returning to Purdue, he was offered a full time position at AAN. He left Purdue, moved to Washington, and embarked on a new career with AAN. Unfortunately, he was soon diagnosed with cancer, potentially stemming from his frequent exposure to Agent Orange in Vietnam. He passed away during October, 1988, at the youthful age of 42. He was survived by his son.
*A special thanks goes to Brad Rowe for researching the information on David Hamilton.