HRI Honoree Lewis Charles Chadwick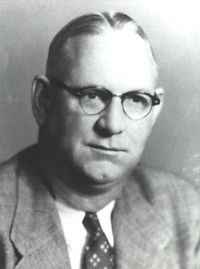 L.C. Chadwick was born on August 13, 1902, in Randolph Center, Vermont. He received his Bachelor of Science in Horticulture from the University of Vermont in 1925 and his Ph.D. in Horticulture from Cornell University in 1931. Ohio State University hired L.C. as an Assistant Professor of Horticulture in 1929. He remained at that institution for his entire career becoming an Associate Professor in 1937 and full Professor in 1947. From 1953 until 1967 he held the position of Head of the Division of Floriculture and Landscape Horticulture at OSU. L.C. Chadwick retired from Ohio State in 1967.
At the same time L.C. worked at OSU, he held similar responsibilities at the Ohio Agricultural Research and Development Center in Wooster, Ohio. He was honored for his work when Ohio State University named the Taxus collection at Secrest Arboretum in Wooster, Ohio, after him. On May 24th, 1981, the Northern Columbus Kiwanis Club along with the Ohio State University Board of Trustees, dedicated the 44-acre Chadwick Arboretum on the West Campus of Ohio State University.
L.C. Chadwick served as president of the IPPS in 1953 and was honored with a lifetime membership in 1957. In 1964, he chaired the initial meeting of the Eastern Regions Award of Merit Committee and composed the wording of the award, which has not changed to this very day.
According to Elton Smith, former student of Chadwick's and now retired Extension Specialist in Landscape Horticulture at OSU, "he was a quiet individual with a high degree of intellect." He would sometimes work 20 hours a day, yet was extremely organized. Everyone who grew plants knew L.C. Chadwick. Chadwick passed away at the age of 91 on October 3, 1993.
*A special thanks goes to Stephanie Solt for researching the information on L.C. Chadwick.