HRI Honoree Alfred J. Fordham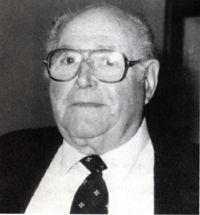 Al Fordham is a native of Massachusetts who grew up in Delham, Massachusetts. He began his career as a student intern at The Arnold Arboretum and ended up staying for the next 50 years.
He began his informal education during his childhood, when his father was a superintendent of a large nursery in Massachusetts. After he completed his internship at Arnold, he later advanced to assistant propagator, assistant superintendent, plant propagator, and finally research horticulturalist. Al Fordham's passion was for woody ornamentals, their propagation by seed, and the cause and effect on breaking dormancy in woody seeds. He experimented by artificially subjecting seeds to different conditions, and then published his findings. Plant behavior in nature and in the Arboretum was an extension of his interests.
He also studied the affects on juvenility on cuttings and why certain principles did or did not work with some species. His fascination with witches-brooms on pines often took him to many places including to the tops of trees. Al is remembered for his climbing tall trees without a ladder or rope in order to get cuttings or collect seed. There are a number of Pinus strobus, P. resinosa, and P. banksiana introductions that Al developed and released.
Al Fordham received the Award of Merit, Fellow Award, and an honorary life membership from the Eastern Region, North America of IPPS in 1977. He also earned a fellow from the Royal Botanical Gardens in Kew England. He served 3 years in the Military and later resumed his career at the arboretum until he retired in 1977. Al Fordham died at the age of 89 in 1998.
* A very special thanks goes to Terri Poindexter for the research and information on Al Fordham.