HRI Honoree Ralph Shugert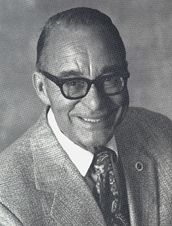 Ralph Shugert was born and raised in St. Louis Missouri. In 1939 he enrolled at the University of Missouri with a major in Forestry. In 1943 World War II interrupted his education when he served with the U.S. Army in the South Pacific Theater until his honorable discharge in November 1945. He returned to the University of Missouri in 1946 and received his B.S. in Agriculture.
In June of 1946, Ralph began his nursery career with Sanders Nursery Company in St. Louis County, Missouri. In 1953 he moved to Elsberry, Missouri, where he worked with his mentor Hugh Steavenson at Forrest Keeling Nursery. It was at this time Ralph was introduced to the International Plant Propagators Society. He presented his first paper in 1955. From 1959 to 1980, Ralph was employed as Horticulturist/Propagator at Neosho Nurseries (Missouri), Plumfield Nursery (Nebraska), Spring Hill Nursery (Ohio), and Cole Nursery (Ohio). In 1980 Ralph joined Zelenka Nursery in Grand Haven, Michigan, where he served as Staff Horticulturalist.
Ralph has served on several Eastern Region Committees and was elected Eastern Region President in 1968. In 1970, as International Vice-President, he served as program chairman for the only joint Eastern/Western Region annual meeting. Ralph served as International President in 1971.
Ralph and his wife Shirley have been associated with IPPS meetings and tours around the world for 50 years. He will be forever remembered as co-moderator with Bruce Briggs of the ever-popular question box. Ralph has received both the IPPS Fellow award and Award of Merit.
Over the course of Ralph's career he has had an impact on many businesses and individuals as he exemplified the IPPS motto of "To Seek And To Share." Ralph died in 2000.
* Special thanks to John Daniels for biography information and background on Ralph Shugert.