HRI Honoree James S. Wells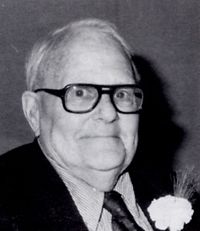 Jim Wells was born in Colchester, England in 1915. Cecil and Jim met in Bournemouth England, which is 107 miles southwest of London, where Cecil was stationed as an ATS (equivalent to an American WACS). They were married on July 29th, 1940. Jim and Cecil were married for 60 years.
During World War II Jim grew vegetables for the war effort. Immediately following the war, Jim wrote Mr. Seabrook of Seabrook frozen foods regarding work. During this same time Jim, traveled to Holland where he gained valuable information regarding ericaceous plant material. In 1946, Jim, Cecil, and their two sons, Roger and Jeremy, left England and went to work at Seabrook Nursery in Bridgton N.J. where they stayed for 7 years. In 1954 Jim went to work for D. Hill nursery in Chicago where he stayed for 1-1/2 years before moving back to New Jersey. In 1956 Jim started Wells Nursery in Red Bank. According to Cecil, it took them 10 years before they were to show a profit.
Jim Wells was a self-taught man with no formal education in horticulture. His greatest hobbies were reading and walking and he did so at every opportunity. Jim was one of the first to realize the benefits of using rooting hormones to promote rooting of ericaceous plants such as evergreen rhododendrons and deciduous azaleas, which at the time were grafted. He also utilized a new propagation technique called intermittent mist to help stabilize un-rooted cuttings until they began to root. According to Cecil, it took Jim 10 years to perfect the rooting of deciduous azaleas.
Jim Wells was one of the founding fathers of the International Plant Propagators' Society. He was this Society's first President and served in this capacity for 2 years. Jim and the founders were the ones responsible for coming up with the slogan "To Seek and to Share." Young people were important to Jim, as he saw them as the future of this organization. Every year Jim would bring in up to 4 interns from England to work at his nursery. After retiring in the 1970s, Jim took up growing miniature daffodils as a hobby and became an accomplished expert in this subject.
Jim was an author of two horticultural publications. His first and most famous is Plant Propagation Practices, which is still used as a reference in many Horticultural curriculums. There have been a number of editions. His second, less noted, book is Modern Miniature Daffodils Species and Hybrids. Published in 1989, there were very few copies made. Jim took nearly all of the photos in this book.
Jim Wells died on January 5, 2000. He left behind his wife Cecil, his two sons, Roger and Jeremy, 5 grandchildren, and 3 great grandchildren. Jim is buried in New London, New Hampshire. He devoted his entire life to plants and is one of the greatest reasons the International Plant Propagators society is the success it is today.
* A special thanks goes to Cecil Wells for the valuable and personal information on Jim Wells life and accomplishments.