Dale Pierson Elected President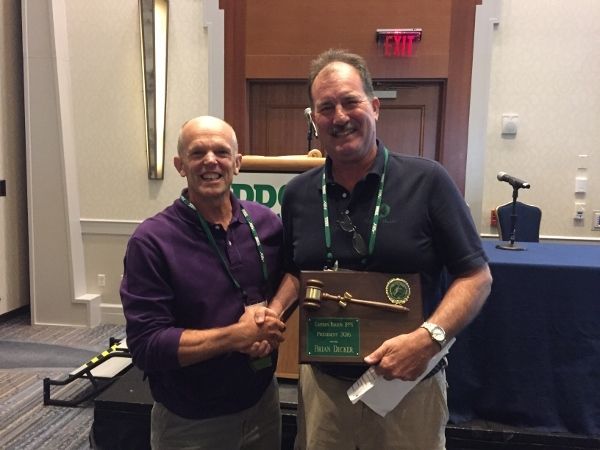 Dale Pierson, President of Pierson Nurseries, Inc., in Dayton, Maine, was elected President of the IPPS Eastern Region at the annual business meeting held in Hartford, CT in September. He has been a member of IPPS since 1993, having served as a Director on the Board of the Eastern Region, on multiple committees and as co-chair of the local site committee for the 2003 conference in Portland, Maine. Dale was named as a Fellow of the Eastern Region in 2013. He most recently served as Program Chair for the Hartford conference.
Pierson Nurseries was started in 1977 after Dale graduated from the Southern Maine Vocational Technical Institute and the University of Maine Orono with degrees in Plant and Soil Science. The business began with a landscape/nursery focus. It has evolved into a wholesale nursery and re-wholesaler supplying plants to landscape contractors and garden centers in the northeast. The 125-acre nursery produces a full line of woody and herbaceous plants, specializing in wetland and native plants and employs up to 25 local people. They offer contract growing for large or unusual orders. Approximately half of what they sell is produced at their site with the balance purchased from vendors all over the country. Dale proudly reports that Pierson Nurseries, Inc. practices a good neighbor policy. This includes minimal pesticide applications, soil erosion control, water retention, noise and odor reduction and a good overall appearance.
Dale and his wife, Mike, resided in a house he built in Biddeford, Maine from 1981 until 2013. At that time, they sold their home to their son Jake and wife Allie, both of whom help run the business and are now raising their two children in the same home that Jake was raised in just a mile from the nursery. Mike and Dale over the last few years built and now live in a new home in Tenants Harbor on family land where Dale was born. Dale commutes to the nursery for a few days each week and then returns home. With his son and daughter in-law active in the nursery, the goal of Pierson Nurseries - to provide high quality trees, shrubs, perennials, wetland and native plants to the trade - will continue into the future.
In addition to his service to IPPS, Pierson has been involved with the Maine Landscape and Nursery Association, the New England Nursery Association, and New England Grows, serving on the board and as the president of each! Pierson has also served as a governor and senator with the American Nursery and Landscape Association and on the Conservation and Capital Improvements Committee in Biddeford, Maine. Pierson has been a volunteer or contributor to many local projects including park plantings and playground construction.
A Message from the President:
Greetings!
I am very proud of being elected as President of the Eastern Region IPPS. It all started some years ago when Alan Jones called and asked me if I would be interested in being considered for the board of the Society. I have always enjoyed my participation in industry groups and this may be my most enjoyable and last significant post after lots of time being involved. Some of that time has been spent dealing with transitions and changes that have and still are changing our industry.
One of the biggest challenges we face today in IPPS is bringing in and allowing young and new members to experience the benefits and pleasures of our unique group. I hope you will all join me in working towards increased membership opportunities for our Society.
This, in a round a bout way brings me to a topic I wanted to address. You may have noticed or maybe not, that our beloved past president of the Eastern Region, Brian Decker and myself have been having some ongoing fun with each other. I wanted you all to know it started and continues today to be a good natured rivalry between an intelligent, hard-working, good looking New Englander (oops, enough about me) and Brian from some place called Ohio. Perhaps we thought you all might notice and have some fun at our expense too. Maybe this little bit of extra fun got a few of you to pay more attention, mention it to a colleague, become more involved or want to see what would come next. Any of these, in my view, helps our Society.
So please don't worry about me. Brian and I may or may not continue our good natured jibes (you can almost guarantee it) and if it means I have to let Brian give me a little peck on the cheek in retaliation, no problem. As to the rest of you out there, perhaps you can find your own fun and contribute to our Society to improve the experience of this and the next group of members!
Thank you,
Dale Pierson