Cincinnati Tour Recap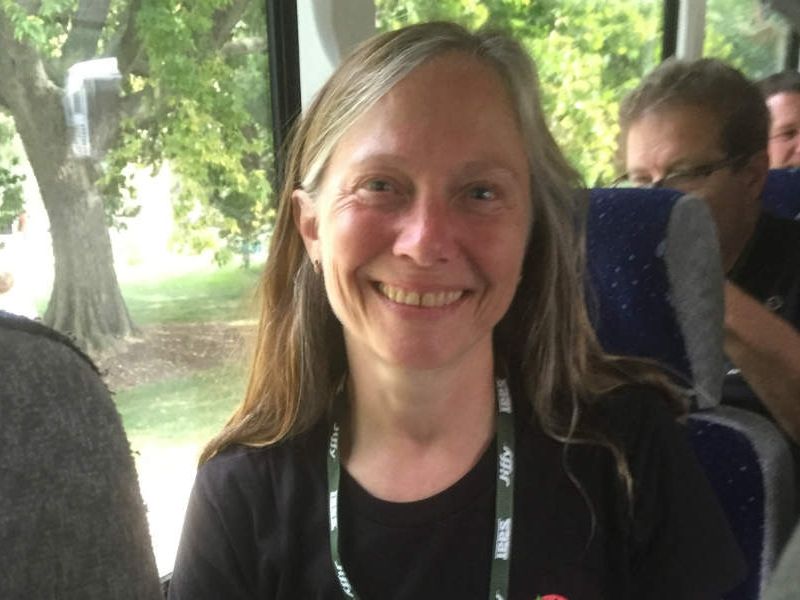 Eastern Region conference attendees enjoyed two full days of tours to the horticultural highlights of both Columbus and Cincinnati, Ohio.
The first stop on the Pre-Conference Tour on Friday, September 25th was Decker's Nursery where the focus is on finished nursery stock, wholesale shrub liners and specialty grafted conifers. They produce 1.2 million cuttings and 148,800 grafts annually and ship to 36 states. Decker's has recently added automation into key production areas, a move that has improved productivity and also addresses the issue of labor shortages.
Next we went to Acorn Nursery, an impressive container nursery. Ben French said, "If I were a landscape contractor, I'd shop there!" Acorn generously had a free plant for us all and there were soft peat bales instead of the usual straw for the wagon tour. Much appreciated by the members who have been on bumpy wagon tours for three or four decades.
At Franklin Park Conservatory we donned white hard hats to enter the construction site of their new reception center. Beams from the former barn, which was a local landmark, have been incorporated into the new building. A young propagator was overheard to say, "It's hard to keep myself from putting seeds into my pockets!" Good to know this long-standing tradition continues at the IPPS conference!

The Ohio State University Ornamental Plant Germplasm Center conserves genetically-diverse herbaceous plant germplasm. Their goals are to acquire, document, maintain, characterize and distribute herbaceous ornamental genetic resources and associated information for conservation, and to enhance scientific research as well as the floriculture and nursery industry. Several members recognized the importance of their work to our industry and research. Pre-Tour attendees returned to the host hotel in time for the Welcome Reception.
The IPPS-ER Conference Tour was held on Sunday September 27th, 2015 allowing attendees to see firsthand the best horticulture Cincinnati has to offer.
The first stop was at the new, $120 million Smale Riverfront Park. The park sits between the Cincinnati Reds Ballpark and the Cincinnati Bengals Stadium and features fountains, a carousel, the Moerlein Lager House restaurant and many planted and open spaces for beautiful views of the Ohio River.
The next stop was Spring Grove Cemetery and Arboretum, one of the nation's largest private cemeteries - a whopping 733 acres. Several plants have been selected from Spring Grove's great horticultural collection including the Spring Grove arborvitae, the Spring Grove flowering dogwood and Taxus 'Runyan'. Spring Grove is home to 19 State Champion Trees. Carl Hesselein summed it up nicely, saying "Exceptional! You could spend a week there and still not see everything!"
William Natorp started his landscape business in Cincinnati in 1916. Four generations later Natorp's has grown into the 400-acre Natorp's Nursery Outlet, a thriving landscape and maintenance business. Natorp's grows a wide variety of plants from annuals and perennials, to shrubs and trees. Pot in pot trees as well as field grown trees are available to the public through the Nursery Outlet as well as wholesale. Notably, they made a bold move recently from being open 365 days a year to only 93 days and this resulted in a 20% increase in sales! The garden center has very little hardgoods, with an estimated 90% of the sales space in plants.
The final stop of the day was at the Cincinnati Zoo & Botanical Garden where the Botanical Garden blends in with the entire Zoo experience. The Plant trials program hosts over 250 types of annuals yearly in displays throughout the Zoo. Perennials, bamboo, vines and ornamental grasses are also a part of the Zoo's extensive plant trialing program. These plants combine with many types of trees and shrubs to finish off the diverse plant collection. At the end of the tour we enjoyed a wonderful reception and dinner in the Peacock Pavillion. Reception guests included a potto-on-a-stick (an adorable nocturnal African tree dweller) and an Australian blue-tongued skink!
Following dinner, IPPS Eastern Region Foundation Executive Director Paul Cappiello put on both his auctioneer hat and his comedian hat and led a lively round of bidding on some great plants, a couple of behind-the-scenes-at-the-zoo tour packages, a vintage bottle of Jack Daniels and an IPPS shirt that came literally off of Tim Brotzman's back! A great time was had by all and nearly $6000 was raised for the Foundation between the live and silent auctions. Thanks to all who donated and bid so generously for this worthy cause.