Tim Brotzman (right) and Win Dunwell Receive Eastern Region Awards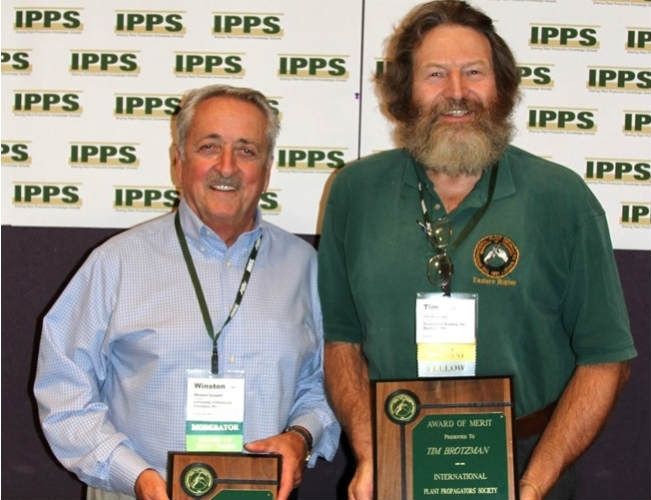 Each year the IPPS Eastern Region honors its own by presenting the Award of Merit and Fellow Award to deserving member recipients. Tim Brotzman, President of Brotzman's Nursery in Madison, Ohio, received a standing ovation as he accepted the prestigious IPPS Eastern Region Award of Merit on September 26, 2015 in Cincinnati, OH. The Award of Merit is made to the individual who has made a significant contribution to the field of plant propagation or production and/or for service rendered to the Society and the green industry. Tim noted that he was "surprised and deeply honored" by the recognition.
Tim has served in many capacities for IPPS: board member, president, committee member, committee chair, local site committee chair. He has organized tours for the International Board, has developed a conference program, presented over ten papers, contributed to the new plant forum, solicited scholarships for students to attend the annual meeting and donated countless plants to the annual conference auctions. Tim has been described as the truest of plantsmen, in his love of plants and people and willingness to share his knowledge. This honor goes to a person that truly lives the IPPS motto "to Seek and to Share".
Tim is President of Brotzman's Nursery, a wholesale nursery in Madison, Ohio offering specimen landscape material, bare root and B&B trees, shrubs and evergreens. They have introduced over a dozen unique selections, including Lavender Twist® weeping redbud, Street Keeper® columnar honeylocust and White Tigress striped maple.
Winston Dunwell, University of Kentucky Extension Horticulture Specialist for Nursery Crops, was named a Fellow of the IPPS Eastern Region at the 2015 IPPS Eastern Region annual conference held in Cincinnati. The Fellow Award which was created to honor Eastern Region members for contributions to plant propagation or production in one or more areas: teaching, research, or extension activities as well as for service to the Society.
Win's area of interest is developing educational programs related to sustainable ornamental plant introduction, propagation, production, and utilization. He established the Nursery Crops Development Center to carry out trials on cultivated and native plants with unique characteristics of special interest to the nursery/landscape industry and the gardening public. The goal of the Center is to provide plants that will increase the product mix at the nursery, increase the number of plants available for the landscape designer's palette, and be useful in environment conservation and restoration.
Win has participated and chaired many IPPS committees, including his recent position as Publicity Committee Chair. He is also currently a Director on the IPPS Eastern Region Board. He has presented papers at the conferences of both the Eastern and Southern Regions of IPPS. Recognition Committee Chair Ron Amos described Win as a true educator and researcher, noting that he is usually seen with his camera and notebook. Win gathers information to use to educate his students in the latest propagation and growing techniques.
Congratulations to both of these deserving award recipients!