Annual Conference Highlights: Growing Together in Hamilton, Ontario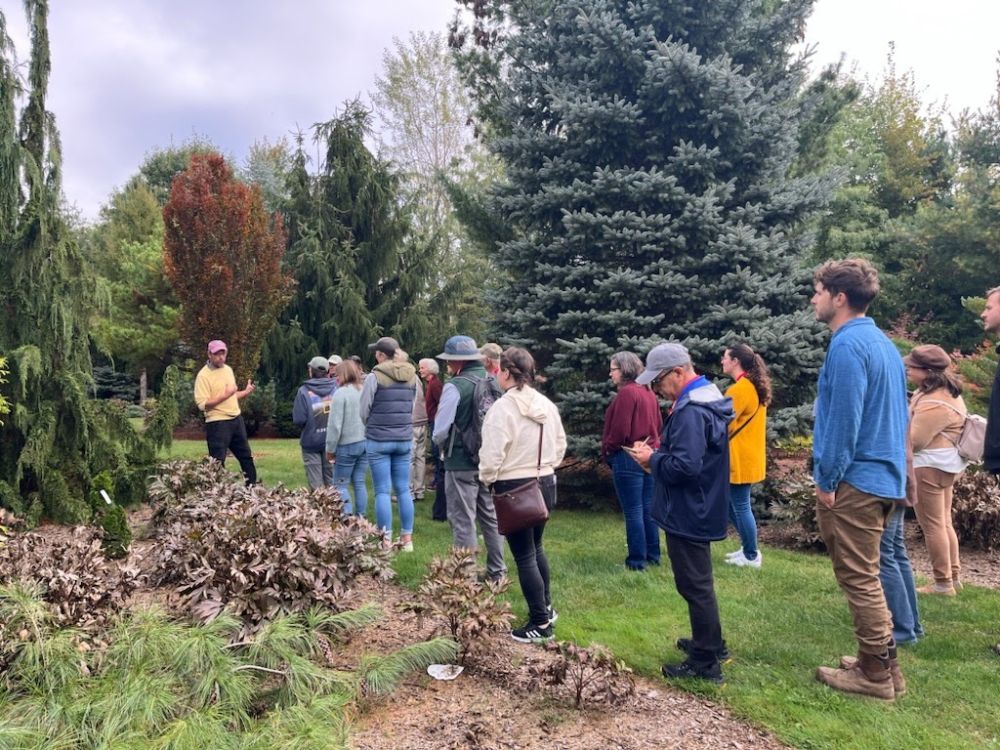 We were thrilled to host 145 members and students at our 73rd Annual Conference held in the picturesque city of Hamilton, Ontario. This year's gathering was a tremendous success, bringing together new and familiar faces within our vibrant community. It was an exciting week filled with networking, enriching educational content, and captivating tours to some of the region's finest nurseries and horticultural destinations. We also took this opportunity to honor Dave Sanford with the Award of Merit, recognizing his significant contributions to our community!
One of the driving forces behind the success of this conference was our dedicated team, including the site committee and tour hosts who went above and beyond to create a memorable experience. A special shoutout to Keith Osborne, whose exceptional efforts ensured a fantastic venue at the Sheraton Hamilton Hotel and organized captivating pre-tours to renowned locations such as Hillen Nurseries, Canadale Nurseries, Pieper Nurseries, Norview Gardens, Whistling Gardens, Winkelmolen Nurseries, Aldershot Greenhouses, and the Royal Botanical Garden Rock Garden.
Our afternoon tours were equally enthralling, with highlights including visits to Connon Nurseries, Verbinnen Nursery, NVK Nurseries, Linwell Gardens, J. C. Bakker Nurseries, and Vineland Research and Innovation Centre. Our heartfelt thanks to Case van Der Kruk for his help with organizing the tours and hosting a delightful BBQ at NVK Nurseries.
Matt Palmieri deserves special recognition for curating an outstanding program. We had the pleasure of listening to distinguished speakers like Kelly Norris, Suzanne Wainwright-Evans from The Bug Lady Consulting, Adam McClanahan, Jaime Manlove, Daniel Norden, Kurt Dreisilker, David Roberts, Megan Mathey, Dr. Yi Li, David Roberts, and Michael Brownbridge. The panel discussion on "Holding the Keys to the Future; A Panel Discussion on Nursery Succession Planning" was both enlightening and engaging.

The conference banquet was a memorable evening, featuring a lively three-person band and an honorable guest from the Rocky Mountain Canadian Police. The silent and live auction was a great success, and we extend our gratitude to all who contributed items. A special thank you to the Auction committee from the Royal Botanic Gardens: Jon Peter, Cynthia Doorenspleet, & Wendy Vallesi.
The enthusiasm throughout the week was truly inspiring, with many members expressing their desire to serve on committees. If you haven't been contacted by a Committee Chair yet, you can complete the form to let us know which committee you would like to participate in!
We would like to express our sincere gratitude to our sponsors who made this event possible:
International Sponsors:
Ball
Bailey Nurseries
BASF
Bayer
ICL
Harrell's
Nursery Supplies
Spring Meadow
Star Roses
Diamond Level Sponsor:
Platinum Level Sponsors:
GIE Media
Foxborough Nursery
NVK Nurseries
Hillen Nursery
Gold Level Sponsors:
A.M.A. Horticulture, Inc.
Anatis Bioprotection
Canadale Nurseries
Decker Nurseries
IPPS Foundation
Klasmann-Deilmann Americas
Kobes Nursery
Landscape Ontario
Manor View Farms
Precision Labs
Profile Products
Winkelomolen Nursery
Bronze Sponsors:
Bakers Nursery
Knight Hollow Nursery
Mt. Cuba
Plant Products
We're already looking forward to the next conference and the opportunities it will bring. Thank you to everyone who participated and contributed to the success of our 73rd Annual Conference in Hamilton, Ontario.