Register is open for the IPPS Eastern Region Annual Conference!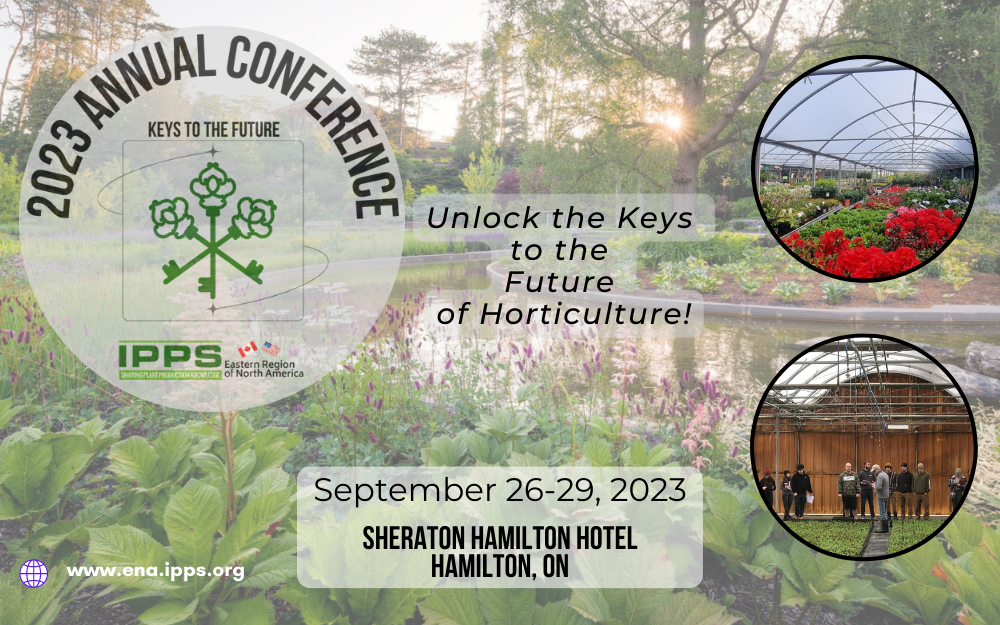 Mark your calendars and get ready for the ultimate horticultural experience—the IPPS conference is returning to Ontario from September 26th to 29th!
Registration is now open, and we invite you to secure your spot for this remarkable conference. Choose the package that suits you best—whether it's the comprehensive 4-day package with the exciting pre-tour, the flexible 3-day package, or individual day passes designed to fit your schedule. Don't miss this opportunity to be part of a transformative event and contribute to the future of horticulture. Sign up now to secure your place!
We're thrilled to announce our exciting theme, "Keys to the Future!" Join us as we bring together a diverse community of Plant Propagators, including botanical garden managers, estate gardening specialists, growers, researchers, and passionate individuals shaping the future of horticulture.
Prepare to be inspired by our lineup of esteemed speakers. Kelly Norris, renowned horticulturist and author, will share cutting-edge propagation and breeding techniques. Kurt Dreisilker, a tree-growing expert, will unveil revolutionary methods for cultivating healthy and robust trees. These captivating talks will expand your knowledge and fuel your passion for the possibilities in horticulture.
Immerse yourself in enlightening sessions covering topics such as New Naturalism and strategies for managing invasive species. Embark on guided tours to innovative nurseries, trial irrigation setups, and fields implementing the best soil practices. Gain valuable insights into the latest industry trends and discover new approaches to enhance your horticultural practices.
Indulge in delightful culinary experiences throughout the conference. Enjoy a mouthwatering BBQ dinner at NVK Nurseries and savor a delectable conference dinner at the hotel. Energize yourself with delightful food during seminar breaks and the Welcome Reception. We've curated a culinary journey that will leave you satisfied and fueled for learning.
This conference offers much more than education and tours—it's an unparalleled opportunity to connect, network, and build lasting relationships. Reconnect with old friends, meet fellow horticulturists from across North America, and engage with students embarking on their horticultural careers. Engage in thought-provoking conversations with our inspiring speakers and industry experts. Exchange ideas, share experiences, and forge valuable connections that will shape your professional journey.
Don't miss out on this remarkable conference that promises to leave you inspired, motivated, and equipped with valuable insights. Join us in Hamilton and embark on an unforgettable journey into the world of horticulture.
Click here to register and secure your spot now!
For more conference details, click here.
We look forward to seeing you there!