Are you ready to travel to Canada for the Annual Conference? Review this checklist!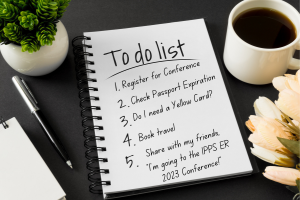 Are you ready for travel to Canada?
Review the checklist below!
Passport: U.S. Citizens! Don't forget to check the expiration date on your passport! Need to order a new one? Click here.
Passport Card: Don't want to get the full passport? A passport card offers a convenient and cost-effective alternative to a traditional passport. It is ideal for individuals who frequently travel by land or sea to neighboring countries, such as Canada or Mexico, as it can be used for such travel. Additionally, the passport card is more compact and wallet-friendly, making it easier to carry and store.or a US Passport Card, click here to learn more.

U.S. Members planning to drive across the border? Reach out to your insurance provider to ensure you have insurance coverage to drive in Canada. If not, you may want to look into the getting a Canadian ID Card, click here to learn more.
Canadian Weapons Laws: Planning on carrying? Make sure you have the correct documentation. US citizens should be aware that Canada has strict regulations regarding the importation of weapons. It is generally prohibited to bring firearms, including handguns, automatic weapons, and certain types of knives, into Canada without the proper permits and documentation. Non-compliance with these regulations can result in serious legal consequences, including arrest and prosecution. It is advisable to thoroughly research and comply with Canadian laws and regulations concerning the importation of weapons before traveling to Canada. Contacting the nearest Canadian embassy or consulate can provide specific and up-to-date information on the requirements and procedures for bringing weapons into the country.