Across Gardens and Memories: IPPS International Tour 2023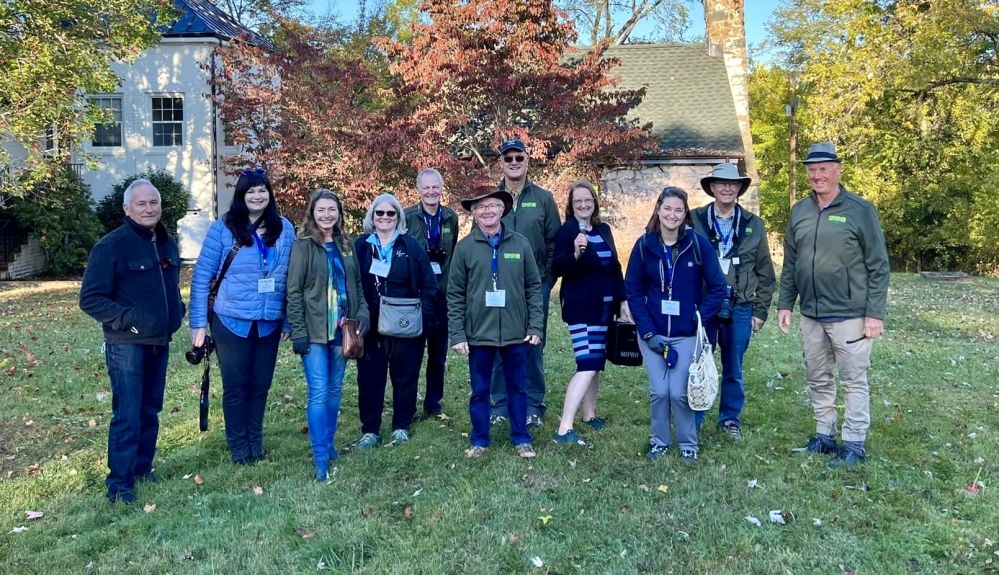 IPPS International Tour 2023 Reported by: David L. Sanford
As your International Delegate, I attended this year's International Tour, the first since Covid, held in the Southern Region of IPPS from October 18 through the 28th. These International Tours provide a glimpse into the hosts regions plant propagation and production facilities as well as visits to private gardens, botanical gardens, and other interesting sites helping to give an overall understanding and appreciation of the host region to the participants of the tour. In addition, the tour provides members of the international board time to get to better know each other than one can receive from zoom meetings.
Click Here to view David's photos from the Tour!
Our first stop of day one was spent visiting Merrifield Garden Center in Gainesville, Virginia. This location is the largest of their three locations in the northern Virginia region consisting of a 37,000 square foot facility containing indoor plants and gardening supplies, 22,000 square feet of annuals, 16,000 square feet of perennials, and approximately 7 acres of trees and shrubs. They sell retail to homeowners and wholesale to landscape contractors and other business in the trade from the same facility. The center's beautifully landscaped display gardens offer a feast for the eyes, showcasing the creative possibilities for one's own outdoor spaces which evolve with the seasons, making it truly a destination garden center. Our second stop was Green Spring Gardens, a 31-acre public garden with about 8 acres of developed gardens focused on plants for the Washington metro area. The final stop of the day was a tour of Mount Vernon lead by the Director of Horticulture, Dean Norton. Horticulture was one of George Washington's passions, and it's evident throughout the gardens and grounds at Mount Vernon. The Upper Garden, Lower Garden, and orchards are exquisite examples of his vision for sustainable agriculture. These gardens offer a fascinating glimpse into Washington's agricultural expertise and the importance of self-sufficiency in the early days of the United States. The evening concluded with dinner on the grounds of Mount Vernon.
The second day was spent on the mall in Washington DC with tours of the Enid A. Haupt and Mary Livingstone Ripley Gardens of the Smithsonian Gardens and tours of the Conservatory and outdoor gardens of the US Botanical Garden.
The third day was tours of nurseries on the Eastern Shore of Maryland with visits to Marshalls' Riverbank Nurseries and David's Nursery. At Marshalls we visited two of their five sites, the first being their newest developed in 2019 through 2022 which is 56 acres with about one third irrigated bed space for container production of plants from 1 gallon up to 20 gallons. At this site we observed modern potting equipment and a sophisticated irrigation control system. The second site we visited was the original farm where they have 55,000sq.ft. of heated hoop houses for woody cutting propagation and overwintering. They have an additional 35,000sq.ft. of heated perennial production greenhouses. At David's Nursery we observed a wide range of plant species being produced in containers, pot-n-pot, and field stock; approximately 100 acres of each. Container size ranges from 1 gallon to 45 gallon with an emphasis on larger pot sizes. Field production sizes ranged up to a 28" ball.
Day four began with a tour of Bennett's Creek Nursery in Smithfield, Virginia. Their product mix includes six-inch spring and fall annuals, perennials, grasses, vines, shrubs, and trees up to 25 gallons. We observed a custom boom sprayer with both liquid and granular delivery systems, a forklift to move packs of 60, three-gallon container plants, and a new potting line with a printing system to label pots as they moved along the conveyor. A delicious lunch was provided by Bennett's Creek Nursery with our visit concluding with tours of production areas. The latter part of the afternoon and evening was a visit to Lancaster Farms Wholesale Nursery, a renowned establishment specializing in the cultivation and distribution of trees, shrubs, perennials, and seasonal flowers. During this time, we were privileged to receive an in-depth tour, where we learned about their process for propagating cuttings, as well as how they manage their crops throughout the growing season and over wintering. As the sun began to set, we were graciously invited to a delightful dinner hosted at the residence of the nursery's founder, Charlie Parkerson.
The morning of day five was the day of the International Board Meeting for all officers, directors, and alternate directors which was held at the Virginia Tech Hampton Roads Agricultural Research & Extension Center in Virginia Beach. The remainder of the group was given a tour of the center which includes research labs, greenhouses, field research, and 10 acres of demonstration gardens. The afternoon was spent at the Lewis Ginter Botanical Garden in Richmond, Virginia. Established in 1984, this stunning garden spans 50 acres and boasts an array of themed gardens, including a Japanese Garden, a Rose Garden, and a Children's Garden. With its beautiful landscapes, a historical conservatory, and diverse plant collections; it provides a peaceful escape and educational opportunity for visitors. The day concluded with a visit to Carter Mountain Orchard, a family-owned farm since 1912, which is renowned for its apple orchards and panoramic views of the Blue Ridge Mountains just outside of Charlottesville, Virginia. Here, visitors are invited to pick their own apples and peaches helping to create a connection between nature and those who appreciate fresh, locally grown produce. The orchard's country store is a treasure trove of homemade jams, freshly baked pies, and a wide array of local artisanal goods. Complementing this pastoral beauty, Bold Rock Cider brings its craft cider-making expertise to the scene. Located at the orchard, Bold Rock Cider offers a diverse selection of hard ciders that showcases the crisp and flavorful apples from Carter Mountain Orchard.
Day six began with a visit to the Thomas Jefferson Center for Historic Plants which was established at Monticello in 1986. Its purpose is to collect, preserve, and distribute historic and native plant varieties and it strives to promote a greater appreciation for the origins and evolution of garden plants. We then were given a guided tour of Monticello and time to explore the gardens. During the afternoon we visited Cros-B-Crest Farm in Staunton, Virginia. They are a family-run-wholesale-producer specializing in offering high quality annuals from spring to fall as well as holiday poinsettias to landscapers and garden centers both locally and regionally. The day concluded with a visit to The Plant Company, which began producing and selling tropical indoor plants in 2021. This modern facility consists of 220,000sq.ft. of modern greenhouse growing space and a 72,000sq.ft. production barn. They are currently expanding to 460,000sq.ft. of greenhouse space. They market to both independent garden centers and chain stores. The evening was spent at Blue Mountain Brewery where IPPS member teams competed in a jack-o-lantern carving contest.
The morning of day seven we were given a tour by the owner of Edible Landscaping in Afton, Virginia where he discussed the many selections of fruit he offers for sale and allowed us to sample several. Edible Landscaping began in 1979 and is one of the first nurseries to ship potted, low maintenance edibles. They have spent many years growing, grafting and testing hundreds of varieties to select the easiest to care for plants for the homeowner. The remainder of the day was spent at Saunders Brothers Nursery which is nestled in the picturesque heart of Piney River, Virginia. Established in 1915, this family-owned nursery not only grows an incredible array of plants but has also cultivated a deep-rooted connection with its community. What started as a small apple orchard soon flourished into a thriving nursery business that specializes in growing a wide variety of plants, from fruit trees to flowering shrubs, ornamental trees, and a wide range of perennials, annuals, and vegetables. They also have an unrivaled reputation for introducing and producing some of the finest boxwood varieties and specimens in the United States. We were treated with lunch at the hilltop home of Bennett and Lynn Saunders. where we enjoyed the brilliant fall colors on the distant Blue Ridge Mountains. Dr. Holly Scoggins discussed Saunders Brothers boxwood breeding and evaluation program followed by tours of the orchards and nursery production area and of their extensive farm market.
Day eight was a travel day with a visit to the nicely landscaped D-Day Memorial, a 50-acre site in Bedford, Virginia, which pays tribute to those who made the ultimate sacrifice during the D-Day invasion. The Bedford community experienced this country's highest-known per capita loss on D-Day. We then visited the Elissa Steeves Garden in Blacksburg, Virginia. For 40-years this garden has evolved to an eccentric fun garden featuring many rooms and styles with a wide array of garden art and plant species collected over the years. The evening was spent at the International Story Telling Center in Jonesborough, TN, where we were entertained with stories and tales of life in the Appalachian Mountains.
Day nine began with a visit to the North Carolina Arboretum located just outside of Asheville, NC. This 434-acre arboretum contains an impressive collection of themed gardens from the tranquil Bonsai Exhibition Garden to the colorful Quilt Garden to an extensive network of trails that wind through its acres of forest. Each garden offers a unique experience and showcases different aspects of horticulture and landscape design. In the afternoon we visited the 397-acre Mountain Horticultural Crops Research & Extension Center of North Carolina State University. Dr. Tom Ranney and several other faculty and researchers discussed some of the ongoing projects on the evaluation, selection, and development of new landscape plants as well as some fruit and vegetable crop work taking place at the Center. Long time IPPS member and retired Professor & Extension Specialist Dr. Richard Bir joined the group at this stop.
Our last day of the International Tour was a travel day with a stop at Hart Square on the way to the Raleigh-Durham area for the Southern Region IPPS annual conference. Hart Square located in Vale, NC, was founded in 1979 and is home to the largest collection in the nation of historical log structures with over 100 structures built between 1760 and 1893. The day we visited was the one day a year that artisans and individuals were present dressed in period clothing bringing the village to life where one could observe the many crafts and skills required of the early settlers in this part of the country. Once at our hotel that evening, the International Banquet and awards program was held with a good time had by all.
I would like to extend my sincere appreciation to the Southern Region and the dedicated organizing committee comprised of Tom Saunders, International President, Brie Arthur, Dennis Niemeyer, Donna Fare, Laura Miller, Donna Foster, and Adrienne Phillips for their outstanding efforts in planning, coordinating, and flawlessly executing a highly successful international tour.
Despite the unforeseen challenges posed by the emergence of several Covid cases early during the tour, the committee displayed remarkable expertise and adaptability in addressing these issues. Their ability to implement necessary changes while ensuring the tour's continued smooth operation is truly commendable.
I would encourage anyone to consider attending the next International Tour being held in South Africa beginning in late February of 2024. Registration is now open on the IPPS web site.
Download
Download
Download